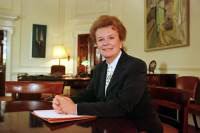 Ah've aye been wurkin claess an ah still believe in ra simple things in life, ye ken.
---
Sign the Helen Liddell Guestbook


View the Helen Liddell Guestbook
---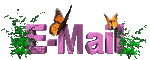 ---

This page has been visited

times.

---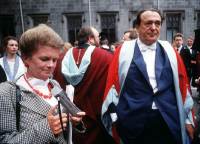 Home

---

Triumph or failure on throw of a dice
SEVERIN CARRELL and JENNY PERCIVAL
IT IS a classic case of political snakes and ladders. Players can find their steady rise up the board suddenly falter, or they can suddenly throw a series of sixes and race on.

Helen Liddell, once blessed by Tony Blair, has lost her luck with the dice. Gus Macdonald, who, a year ago, was a television station chief, has found himself sitting in the Cabinet after 12 months in politics.

The promotion of Lord Macdonald, the shipyard riveter who once lead an apprentice workers' strike, to take Mrs Liddell's prized, but highly contentious, post as transport minister is one of the major surprises of this year's reshuffle.

He had been tipped for promotion, but the pundits saw him naturally slipping into Lord Simon's job as minister for the single market at the Department of Trade and Industry.

Like much of political life, it is a move rich in irony. Until the Scottish elections in May, both ministers served in the Scottish Office under Donald Dewar. Then, the newly ennobled Lord Macdonald of Tradeston was Mrs Liddell's junior.

Their arrival at the Scottish Office was portrayed as proof of Mr Dewar's determination to introduce maturity and experience into a team preparing for one of the toughest battles of Mr Blair's first term of government – combating a resurgent Scottish National Party.

Mrs Liddell, fresh from a widely praised stint at the Treasury overseeing the Government's attacks on pensions mis-selling, arrived at the Scottish Office as Mr Dewar's deputy, with the unofficial title of nat-basher in chief.

Controversially, Mr Dewar cut back on Mrs Liddell's ministerial duties, giving her responsibility for education, to allow her to focus her energies on Labour's election campaign. It was also a clear signal that she was Mr Dewar's anointed successor as Scottish Secretary.

Mrs Liddell had already had Mr Blair's stardust sprinkled on her career. She was one of a few chosen by the Prime Minister early last year for a visit to meet key members of President Bill Clinton's administration, alongside Jack Straw, the Home Secretary, and Alan Milburn, the widely fancied Chief Secretary to the Treasury.

Lord Macdonald's appointment as an unpaid Scottish industry minister, joining Lord Sewel in the Lords, was unveiled days later.

Since he and Mr Dewar are close friends, and his Scottish Media Group had supported devolution, it provoked accusations of croneyism and claims of Government extravagance. Under the Tories, the Scottish Office was run by five ministers. Under Labour it became seven.

There were obvious contrasts in style. Mrs Liddell ran rapidly into controversy over education. Seen as abrasive by teachers over her attempts to improve standards, worsening her reputation in some quarters of the Labour Party as strident.

Although Labour officials may deserve blame for choosing the strategy, her "Nat-bashing" came under criticism from Labour MPs, who insisted such negative campaigning was alienating voters and tarnishing the "new politics" that devolution was meant to represent.

However, Mr Dewar stood by her. Amid further claims of clashes with Gordon Brown during the election, she was moved to run the Scottish Office, with its 4,200 civil servants, while the Scottish Secretary fought Labour's campaign.

Labour officials insisted this was clear evidence of her ministerial skills, and her imminent succession to the Secretary of State post. Believing her promotion was assured, she and Mr Dewar dined together the night before Mr Blair shocked the Government by announcing that John Reid, then transport minister, had the job.

Mrs Liddell was given Dr Reid's post, which came with the compensating bonus of a seat, but no vote, in the Cabinet. Despite an effective demotion, her post at the DTI does have Mr Blair's eye closely on it.

As a minister charged with overseeing the Government's single currency project, Mrs Liddell is back in economics, and also working on one of the PM's pet projects.

By contrast, Lord Macdonald pursued his tasks quietly and diligently in the Lords and his new department, rarely surfacing. At times, given the heavy burden posed on the Scottish Office by the Devolution Bill, he seemed conspicuously quiet.

Yet, he clearly impressed. Despite having no solid political experience, the former Scottish Television chairman was plunged into a round of job losses and factory closures .

With allegations of inaction over the closure ringing in his ears, his promotion of the west of Scotland "the most innovative region in Europe" was overshadowed by loss of 600 jobs at National Semiconductors.

Yet, ministers also insist that he was, behind the scenes, a driving force behind the rescue deal for the Kvaerner Govan shipyard. After only 12 months in government, a Downing Street spokesman made clear last night, he has impressed. And he now has the job which Mrs Liddell and Dr Reid have both had in the last 12 months.

With a quote that the opposition will carefully measure his future actions against, No 10 said the former television journalist "is a real achiever and gets things done. He has great drive and huge experience.